Choose Walter's Mercedes-Benz of Riverside in the Inland Empire when your vehicle requires repairs and maintenance. Our Mercedes-Benz dealership in Riverside, CA, offers exceptional Mercedes-Benz service to drivers from all over Orange County and San Bernardino County. From Mercedes-Benz Service brake fluid exchange to body damage repairs and brake component inspections, no task is too big or too small for the service team at Walter's Mercedes-Benz of Riverside. You can drop by for Mercedes-Benz Express Service if you need routine maintenance, or schedule a service appointment for more significant repairs. If you've recently been involved in an accident, feel free to contact our Mercedes-Benz Collision Center for timely and thorough repairs as well. No matter what type of service you're looking for, make sure to explore our Mercedes-Benz service and parts coupons so you can save on your next visit. Bring your vehicle to Walter's Mercedes-Benz of Riverside for Mercedes-Benz service to enjoy efficient and skillful repairs!
SCHEDULE SERVICEService ReviewsCollision Center
Technical Staff
When receiving service at our Mercedes-Benz dealership in Riverside, you'll feel at ease in knowing that all of our technicians are specialists who are trained by Mercedes-Benz. That means that they dedicate themselves to knowing the ins and outs of every Mercedes-Benz, Sprinter, Metris and smart car model.
The mechanics working at Walter's Mercedes-Benz of Riverside also take part in an ongoing training program that keeps them in the loop about the latest vehicle enhancements and repair techniques. In addition, the service manager, advisors and support staff also participate in this program, so they are able to give you an informed auto service experience.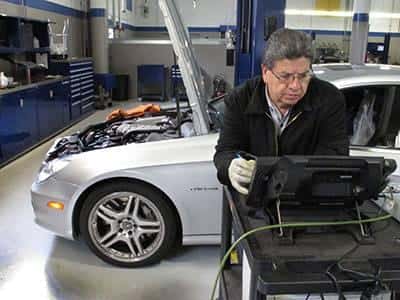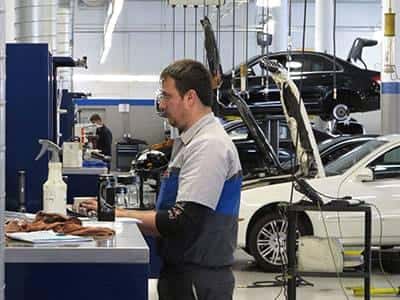 Personal Relationships
Unlike other franchised Mercedes-Benz dealerships, you'll be able to have a personal relationship with our team. You will feel like more than just a number at our Mercedes-Benz dealership serving Orange County since we're here to make sure that all of your questions are answered.
In fact, we'll take the time out to thoroughly explain what services need to be performed in order to keep your luxury car, smart car, or van running smoothly. We'll also let you know what maintenance is recommended in order to help prevent issues from coming up.
Location and Convenience
Our Mercedes-Benz dealership in Riverside is located just minutes from Routes 10, 15 and 215. Whether it's routine maintenance or a major repair, we're the place to go since we offer both local shuttle service back to your home or office and premium loaner cars, so you don't have to fret about not having a vehicle to drive and can go about your daily routine. We proudly serve drivers from the Inland Empire, Orange County, Moreno Valley, Corona, Beaumont, San Bernardino, and beyond.
New Courtesy Car Wash Hours
In light of our states current water storage, we have altered the hours of our courtesy car wash. As of June 1st we will only be providing complimentary car washes Tuesdays and Thursdays 8:00am to 2:00pm.
We will still provide a car wash with any regular service or maintenance.
Guarantee on Our Work
You can feel at ease taking your vehicle to our Mercedes-Benz dealership serving Orange County for service since we back up our work with warranties to ensure that you can get any issue fixed properly. We also do all of the work that your vehicle's warranty covered.
Mercedes-Benz Star Service Pre-Paid Maintenance is designed to give you the security you need when driving since you'll be able to more conveniently receive such services as front and rear brake pad inspection and a cabin dust/combination filter replacement.
We also perform services that are necessary only on specific models due to the components under the hood. These same benefits can also be leveraged if you get Mercedes-Benz Pre-Owned Prepaid Maintenance.
*For details, exclusions and limitations on Mercedes – Benz Star Service Prepaid Maintenance, contact your dealer, visit www.mbusa.com/maintenance, or call 1-800-344-8736.
Customer Satisfaction
It's our top priority to ensure that all of your automotive needs are met when receiving service at our Mercedes-Benz dealership in Riverside. From the time you walk in, you'll be promptly greeted at the door and treated right. Our team will make sure that all of your service concerns are addressed, so you drive home happy.
Recalls and Service Bulletins
You'll be immediately informed about any recalls that are passed down by the manufacturer by our Mercedes-Benz dealership serving Orange County, that way you can get the issue fixed as soon as possible. We're here to answer any recall questions that you may have.
Mercedes-Benz also lets us know about any service bulletins that detail a specific way to fix an automotive issue, so you know that your vehicle is getting the most up-to-date techniques performed on it.
Parts Quality
Our service department will only install the most current Mercedes-Benz, Sprinter, Metris, or smart car parts when fixing your vehicle since getting OE (Original Equipment) parts means that you're getting components of the utmost quality. The parts that we offer also come with a warranty, so you can have extra security if something goes awry under the hood.
Customization
We want you to have a personalized Mercedes-Benz ownership experience, which is why we'll work with you to modify your vehicle to your specific needs. We offer a number of performance upgrade kits, so you can get the most out of your auto. Our service team will even install them properly the first time around for you without having them void your car's warranty.
Facilities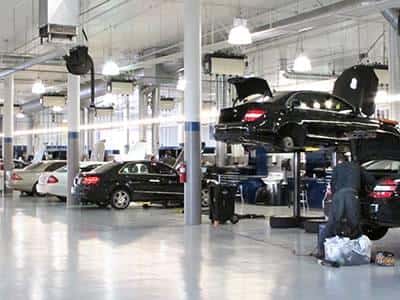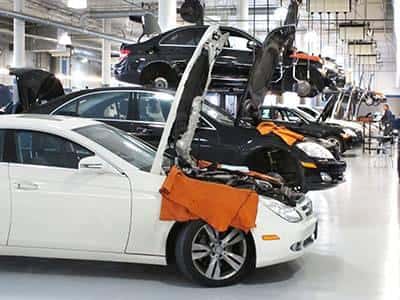 Our service center utilizes the most up-to-date equipment, so you can take advantage of the tools that help your car run smoothly. We also have a number of service bays since we want you to get the repairs that you need when it's convenient for you in a timely fashion.
Our facility is also well maintained, clean and organized, so you can feel right at home as you relax in our comfortable waiting room that offers snacks, drinks and television. We will also wash your car before returning it to you, so you can drive home happy and in style.
You can schedule A and B Service today by hitting the button below
Price advertised for Service A/Service B includes all factory required components. Please refer to your maintenance booklet for the complete list of factory specified service requirements and details on the specific intervals for your vehicle's year and model. For vehicles MY09 and newer.
Visit Our Mercedes-Benz Service Department In Riverside
Call us today at 951-441-6189 for all of your service needs. Maintaining a car is vital to keeping it on the road, and at Walter's Mercedes-Benz of Riverside, Mercedes-Benz, Sprinter, Metris, and smart car owners can keep their vehicles running in peak condition.
Our success is based on our incomparable customer service. Look no further and pay us a visit. We are a reputable Mercedes-Benz dealer and we are ready to assist you. For a Mercedes-Benz auto repair center serving Orange County and Riverside County why settle for less if you can have trained specialists take care of your new or used vehicle.
Please use the buttons below to schedule a service appointment or contact our service department. We can be reached by phone at 951-441-6189.