Mercedes-Benz Windshield Replacement & Repairs in Riverside
Is your windshield cracked or chipped? Do you need to have your windshield repaired or replaced? If so, schedule an appointment with the Walter's Mercedes-Benz of Riverside service center, our team can help.
More than just an unsightly blemish on your vehicle, windshield damage is often unexpected and can seriously compromise your safety behind the wheel. Your windshield not only protects you and your occupants from the harsh elements but is also key in upholding your car's structural integrity. When it's threatened by chips, cracks, or dings, Riverside drivers can always turn to our Mercedes-Benz service center for professional windshield replacements and quality repairs!
Why Are Windshield Replacements & Repairs So Important?
Besides acting as a barrier between you and the outside world, your vehicle's windshield helps protect you and your passengers from various debris encountered on the road or kicked up by other motorists. By replacing or repairing your cracked windshield you can ensure the safety of everyone inside your ride.
Your windshield also provides a clear view of the road ahead but may be compromised when littered with cracks or chips. This can make it difficult to see oncoming obstacles, pedestrians, and traffic, not to mention the risk of the windshield chip cracking or splitting further. The longer you leave a windshield chip, the more likely it is to get worse so be sure to repair or replace your vehicle's windshield as soon as possible.
When Should I Repair or Replace My Mercedes-Benz Windshield?
Unexpected chips or cracks are never convenient, but when they happen, don't delay in seeking help! Minimal windshield damage can easily be repaired by the professionals at our Riverside Mercedes-Benz service center, however, if the chip is directly in the driver's line of sight, at the edge of the windshield, or there are more than three divots or cracks on the glass, then it needs to be replaced completely rather than repaired. It's important to carry out repairs as soon as possible to prevent cracks from developing or getting worse over time so be sure to schedule a service appointment today if you spot any chips or cracks in your ride's windshield.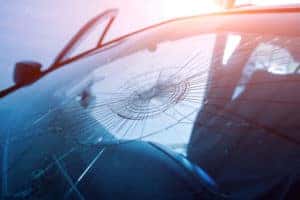 Why Should Riverside Drivers Only Use Mercedes-Benz Windshield Repair?
When it comes time to replace or repair your vehicle's windshield, drivers should only use genuine Mercedes-Benz products. Aftermarket parts, or products manufactured by other companies, often have lower standards than components built by the Original Equipment Manufacturer and may not perform as well as their original counterpart. For example, aftermarket glass may not be equipped with the same quiet drive technology as genuine Mercedes-Benz windshield glass and could lack vital elements such as solar glass coatings. Utilizing proper Mercedes-Benz products in windshield repair and replacements also ensures an accurate fit, optimal visual clarity, and enhanced fuel economy.
Is Windshield Repair Covered Under My Mercedes-Benz Warranty?
Yes! Mercedes-Benz offers excellent warranty and extended warranty options to provide you with the peace of mind you deserve. Even after your warranty ends, drivers can purchase First Class Windshield Protection through Mercedes-Benz Financial Services to maintain the best view possible. First Class Windshield Protection covers costs associated with Mercedes-Benz windshield replacement and repairs due to chipped or cracked front windshield glass from propelled rocks and other road debris. Best of all, there are no mileage limits, deductible, or limits on the number of service calls.
Receive Quality Auto Care In Riverside
We understand that your maintenance needs rarely happen at a convenient time which is why our Riverside service center offers professional services performed right the first time, accommodating service hours, and exceptional Mercedes-Benz service specials. Our knowledgeable Mercedes-Benz technicians are well-versed in the entire Mercedes-Benz lineup and can properly install or repair your vehicle's windshield.
Get a clear view of the road ahead and visit us in Riverside today if your Mercedes-Benz windshield needs to be repaired or replaced.
Walter's Mercedes-Benz Service Customer Testimonials:
Water's Automotive never disappoints. Everyone is always so happy and helpful. I am always treated with kindness and they are very professional. I always recommend Walter's Automotive to family and friends." – K.M. (DealerRater)

"Walters Mercedes and the service advisors are the best. They're knowledgeable, honest, and cost-effective. I won't trust my vehicle to anyone else." – Grateful Customer (DealerRater)
Mercedes-Benz Auto Glass Repairs & Replacements in Riverside