Mercedes-Benz Alignment Service in Riverside
Have you noticed your vehicle pulling to either side of the road or a slight shaking in your steering wheel? If so, then your Mercedes-Benz may need a wheel alignment. Be sure to visit our Mercedes-Benz service center to receive the proper diagnosis and ensure smooth sailing on the roads in Riverside!
Signs You Need a Wheel Alignment
Wheel alignments are an important aspect of regularly scheduled maintenance and, in addition to ensuring optimal driving conditions, can actually prevent several tire and suspension-related issues. Luckily, it's fairly easy to detect when your Mercedes-Benz needs alignment service – just be on the lookout for any of the following warning signs:
Frequently driving on uneven roads with an excessive amount of potholes
Your Mercedes-Benz vehicle pulls sharply to one side or direction
Uneven or rapid tire wear
Your steering wheel shakes or is crooked when driving straight
Squealing tires
If you've noticed any difference in your vehicle's performance, such as pulling or veering slightly to the left or right, please don't hesitate to contact us at Walter's Mercedes-Benz of Riverside. Our team of trained technicians is more than equipped to service your ride to help you get back on the road fast, and regularly offers Mercedes-Benz service specials to ensure your luxury vehicle receives the service it deserves.
What is a Wheel Alignment?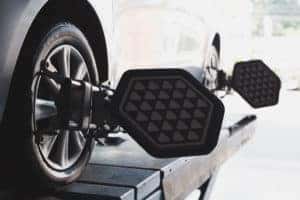 A wheel alignment, or tire alignment, refers to an adjustment of your vehicle's suspension system. This system connects your ride to its wheels and is responsible for providing smooth performance and control. When you first purchase your Mercedes-Benz vehicle, your tires and suspension system will be perfectly balanced. Over time, however, the system may wear, which can shift the position of your tires and cause pulling or uneven tire wear. Be sure to schedule a service appointment at Walter's Mercedes-Benz of Riverside right away if you notice any of these warning signs!
Why Does My Mercedes-Benz Need a Wheel Alignment?
In addition to ensuring optimal driving conditions, a wheel alignment offers several key benefits to your luxury vehicle. Routine alignments can prevent tire and suspension-related issues throughout your vehicle's lifetime. This may include anything from premature wear and tear to troublesome driving symptoms. A wheel alignment can also enhance your Mercedes-Benz vehicle's safety and fuel-efficiency! By adjusting the angle of your tires to the optimal position, you can enjoy peak performance and handling, and utilize less energy keeping your vehicle moving forward in a straight line.
What are the Different Types of Mercedes-Benz Wheel Alignment?
There are two types of Mercedes-Benz alignment services: a front end alignment and a wheel alignment. Both services follow the same basic procedure but refer to the number of tires actually aligned. A front end alignment requires adjusting only the front two tires, while a wheel alignment involves adjusting all four tires on your vehicle. The type of alignment required for your specific vehicle depends on several different factors so it's best to leave it to the skilled professionals at our Mercedes-Benz service center in Riverside!
Walter's Mercedes-Benz Service Customer Reviews:
"I have been taking my car to Walter's Mercedes-Benz of Riverside for a couple of years and they have always been so great. My service advisor helped me out this time and he was so nice. He took the time to explain the service that I needed and it really made it easier for me. Thank you again." – Sassyaly (DealerRater)
Directions: