Mercedes-Benz Tire Replacement & Repairs In Riverside
The next time your Mercedes-Benz needs replacement tires, a tire repaired or patched, or routine maintenance services like tire rotations visit us. The Walter's Mercedes-Benz of Riverside service center is open six days a week and offers convenient hours to suite your busy schedule.
When to Repair or Replace the Tires on Your Mercedes-Benz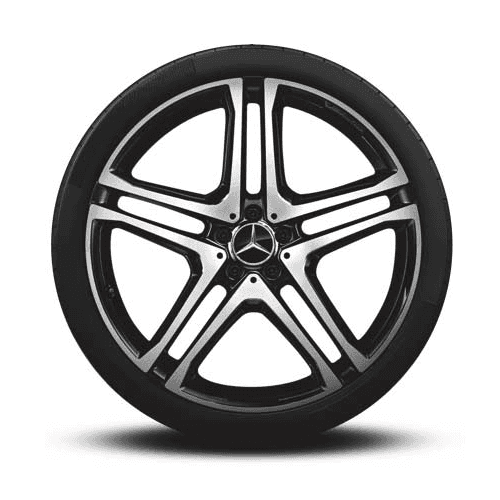 Even with proper care, tires car wear down over time. When you visit us for routine maintenance we'll be sure to inform you about the condition of your tires, but if you'd like to check them on your own, here's how:
Grab a penny and go to each tire of your vehicle.
Insert the penny against the treads, with the top of Lincoln's head facing the tire.
If the tread doesn't extend past the top of his head, then the tread is low and you're due for a change!
Do this in the center of each tire, as well as each edge; your tires may be more worn in different areas.
Whether you're in need of a tire rotation, an alignment, a new set of tires, tire repair, or more general Mercedes-Benz tire service, please call us to schedule an appointment today!
And before you bring your Mercedes-Benz to our Riverside service center make sure to check out our current service specials.
How Long Do Tires Last on a Mercedes-Benz?
Your Mercedes-Benz vehicle's tires are more advanced than ever and can last on average anywhere from 30,000 to 50,000 miles or 5 years, provided you keep up with routine procedures like tire rotations, proper inflation, and other tire services. It's important to note that additional factors such as driving conditions, driving habits, and the type of tire can affect your Mercedes-Benz wheel's lifespan as well.
Does Mercedes-Benz Warranty Cover Tires?
Exceptional engineering is at the heart of every Mercedes-Benz luxury vehicle, but if you're looking for additional peace of mind on the road then you'll be pleased to learn that the Mercedes-Benz warranty also covers tires. Whether you get a flat tire, need a tire or wheel replacement, or require a tow back home, the Mercedes-Benz Wheel and Tire Protection Plus Plan has your back. Learn more about the excellent Mercedes-Benz warranty by clicking on the button below!
Mercedes-Benz Warranty Protection
What Brand of Tires Does Mercedes-Benz Use?
As the only point of contact between you and the road, your luxury vehicle deserves only the best. That's why our Riverside Mercedes-Benz dealer carries an impressive selection of new tires for sale from high-quality brands such as Continental, Michelin, Pirelli, Dunlop, Bridgestone, and Goodyear, just to name a few. Click the button below to explore our entire selection of new tires for sale and find the right set of wheels for your Mercedes-Benz model.
Mercedes-Benz Service Customer Reviews:
"Very pleased with Walter's Mercedes-Benz of Riverside. My Service Representative was very knowledgeable of the service our car needed and saw to it that it was carried through." -Mikus S.

"Wanted to thank my Service Advisor for making sure all service was completed including making sure a part was ordered, received and completed all in several hours. Received Mercedes-Benz loaner car free of charge and everyone was professional and courteous." – Cy
New Mercedes-Benz Tires For Sale in Riverside