Mercedes-Benz Brake Service & Repair In Riverside
Stay safe on the road by visiting our service center in Riverside the next time your Mercedes-Benz needs brake service, brake repair, an inspection, or replacement brake components like brake pads or calipers. We're open six days a week and offer convenient hours so you can take care of your car and then go back to taking care of everything else you need to do.
Warning Signs Your Mercedes-Benz Brakes Need to Be Repaired or Serviced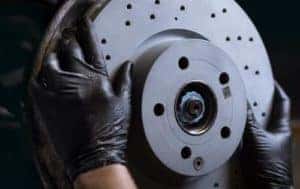 From stop-and-go traffic to quick stops and everything in between, our roads are hectic, which is why it's so important to have a healthy brake system. Unsure if you're brakes require service, need to be repaired, or replaced, look and listen for these warning signs:
A grinding sound coming from the brakes is a telltale sign that your brake pads are worn out. This greatly reduces the stopping power and effectiveness of your brakes in critical situations.
If you notice your brake pedal responding differently, that is a sure sign something is wrong. It may feel soft or spongy when you apply the brakes or it could be difficult to push down. Either of these situations may also include your vehicle pulling to one side when you brake because the calipers have worn down unevenly.
Vibrations through the pedal or steering wheel are signs that your brakes have heated up too much and are indicative of serious rotor problems.
A bad odor when you apply your brakes means something isn't working properly or is about to fail. Overheated brake pads lead to unreliable braking patterns
Warning light. There's a reason these things come on, and if they do then don't ignore them.
If you said yes to any of the signs above, bring your vehicle to our Mercedes-Benz service department. We have the training and tools to provide quality brake repairs and service.
To schedule a service appointment, contact us today!
What's Included in Mercedes-Benz Service A and B
Service A* (MY09- NEWER)
Service B* (MY09- NEWER)

For MY 2009 & Newer
Synthetic Motor Oil Replacement
Oil filter replacement
All fluid level checks and corrections are dependent on factory-recommended service intervals for your vehicle's year and model.
Tire inflation check and correction
Brake component inspection
Reset maintenance counter

For MY 2009 & Newer
Synthetic Motor Oil Replacement
Oil filter replacement
All fluid level checks and corrections are dependent on your vehicle's calculated service intervals
Tire inflation check and correction
Brake component inspection
Brake fluid exchange
Cabin dust/combination filter replacement
Reset maintenance counter
Mercedes-Benz Service Customer Reviews:
"Walters Mercedes is a great business They are always willing to help in my time of need I never have any complaints for them, Thanks." – Swrvprez

"I am currently driving my 5th Mercedes from Walter's. After purchasing my first Mercedes, back in 2001, I will never go to another dealership other than Walters! I am always treated extremely well and have always been very satisfied with all of my cars, and the quality of my service. My service rep is always prompt, friendly, helpful, and able to answer any question that I have about my car. My recent service appointment was fabulous, as always! I look forward to my continued relationship with this dealership! Walters is #1!" – Mathgal1
Quality Mercedes-Benz Brake Repair & More in Riverside
Visit the our service center in Riverside for all of your Mercedes-Benz brake repair & service needs, and be sure to check out our current Mercedes-Benz service offers before stopping by. Click on the map below for door-to-door directions.
*Services and pricing for Service A/Service B may vary due to your driving habits, mileage, and local environmental conditions. Please refer to your maintenance booklet for additional details and general guidelines for your vehicle's year and model.
*Oil and filter change is the base advertised service component. Additional services as determined by your vehicle's ASSYST Plus system, which calculates service needs based on your driving habits, time, mileage and environmental conditions, may increase service cost.