Mercedes-Benz Air Conditioning Repair & Service in Riverside
When your Mercedes-Benz model's air conditioning needs to be repaired or serviced, whether that's an A/C recharge, a system leak, issues with the compressor, or something else entirely you can always turn to the experts at Walter's Mercedes-Benz of Riverside.
Visit us at our Riverside Mercedes-Benz dealer today for unmatched Mercedes-Benz air conditioning repair and service.
Why is my Mercedes-Benz A/C Not Blowing Cold Air?
If you notice your A/C blowing hot air it could indicate problems with:
The electric system
A worn-out compressor
A refrigerant leak
Refrigerant is the specially formulated mixture that your vehicle depends upon to transform hot air into cold air, and does so by absorbing and releasing heat, effectively leaving cold air behind and cooling down your car's cabin. If this vital fluid is leaking, then we encourage you to bring your luxury vehicle over to Walter's Mercedes-Benz of Riverside so we can inspect your ride and recharge your A/C with refrigerant!
Don't hesitate to contact us today at Walter's Mercedes-Benz of Riverside for more information on Mercedes-Benz air conditioning service and repairs, or to schedule a service appointment.
What Is An A/C Recharge And What Is Included In This Service?
Your Mercedes-Benz vehicle's air conditioning system is designed to keep you at the ideal temperature, but if your A/C has begun to lose power, then it may be time for an A/C recharge. At Walter's Mercedes-Benz of Riverside, an A/C recharge essentially means we flush out and void the system of old fluids and recharge the air conditioning system with fresh refrigerant to enable the air to enable cold air to start blowing again. During this service, we also inspect your air conditioning system's pressure and temperature control to ensure everything is working as it should before handing back the keys.
How Often Should My Mercedes-Benz A/C System Be Recharged?
There is no set timeframe or specific service interval at which to recharge your Mercedes-Benz air conditioning system. In fact, some lucky drivers may never need to service their A/C system! For those who do need service, the best time to schedule service and recharge your Mercedes-Benz air conditioning system is when you notice a decrease in performance. Be sure to book a service appointment the moment you experience a refrigerant leak or when the A/C system begins to cool less than it used to. The experts at Walter's Mercedes-Benz of Riverside can inspect the system for you and perform an air conditioning recharge to keep you cool behind the wheel!
What Are Some Signs You Need To Service Your Mercedes-Benz Air Conditioning System?
Since there is no specific timeframe to service your A/C system, it's important for drivers to stay vigilant and schedule air conditioning service if they spot any of the following warning signs:
Loss In Cooling Capability: Has your vehicle been blowing semi-cold air or stopped blowing cold air in general? This is the most obvious sign that your A/C system needs to be serviced and is often caused by a drop in refrigerant levels.
A/C Clutch Fails to Engage: When setting the air conditioning to maximum coldness, drivers should be able to hear a clicking sound as the A/C clutch engages. When the pressure level of the system drops too low, however, the clutch will not engage, which will prevent the A/C system from circulating cold air.
Visible Leaks: A refrigerant leak is a more serious sign that your Mercedes-Benz vehicle needs A/C service right away! Keep an eye out for greasy film on any of the A/C components or fittings and be sure to schedule air conditioning service right away–the refrigerant will continue to leak until the A/C system no longer functions.
A/C Service & Repairs Are A Breeze With Walter's Mercedes-Benz of Riverside On Your Side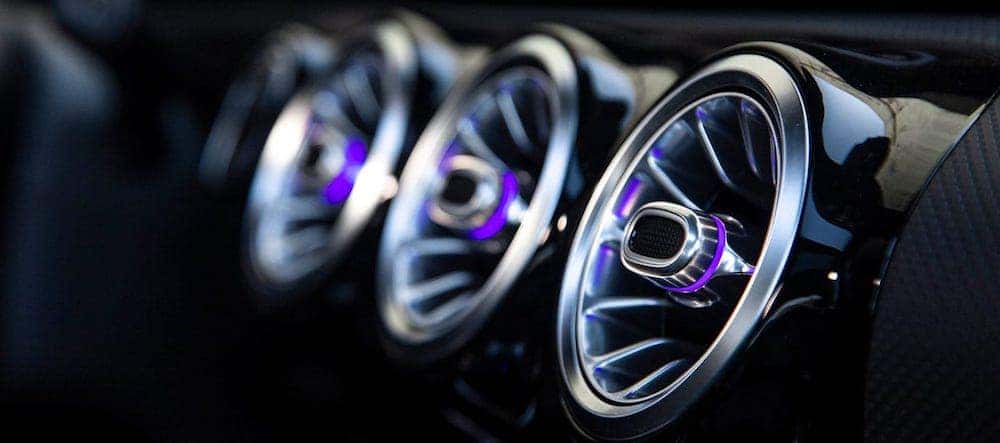 When it already feels like a sauna outside, the last thing you want is to step into an even hotter car. A vehicle without cold air conditioning or a faulty A/C system can certainly be uncomfortable but our Mercedes-Benz service center in Riverside is here to help you stay cool no matter your destination with quality Mercedes-Benz air conditioning service!
"Thank you for the prompt friendly service here at Walter's Mercedes! I will definitely be returning and bringing friends and family." – Dkulloa (DealerRater)

"Water's Automotive never disappoints. Everyone is always so happy and helpful. I am always treated with kindness and they are very professional. I always recommend Walter's Automotive to family and friends." – K.M. (DealerRater)
Directions: