What is the New MBUX Hyperscreen?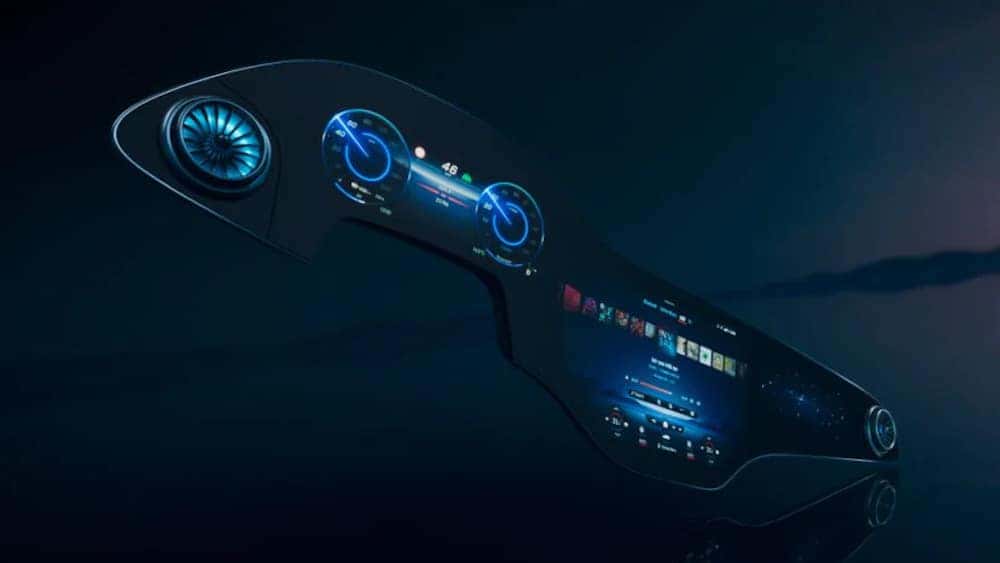 As car technology continues to progress, Mercedes-Benz stays ahead of the curve. The futuristic Mercedes-Benz EQS features a new MBUX Hyperscreen infotainment touchscreen. The most advanced screen ever produced by Mercedes-Benz provides a one-of-a-kind user experience.
Using artificial and emotional intelligence, luxury design, and personalized features, the MBUX Hyperscreen is an infotainment center like no one. Breaking through the surface of innovation, the purpose of this new generation touchscreen is to enhance your driving experience creating more convenience through technology.
Shop New Mercedes-Benz Inventory
Highlights of the New MBUX Hyperscreen
Unique User Experience
Simplicity remains at the forefront of the MBUX hyperscreen user experience. Unique in its way, but radically easy to learn and operate. Artificial intelligence aids the user experience and creates less distraction with software displaying, operating, and adapting to the user and their habits. The top-level view offers personalized suggestions for different functions and applications.
Providing 24 GB RAM and 46.6 GB/s memory bandwidth, everything is at your fingertips to control massage features, energy management, navigation, smartphone, entertainment, and much more.
Fusion of Analogue and Digital Design
As the largest screen ever created by Mercedes-Benz, the Gorilla® glass touchscreen stretches out as three screens: a 12.3-inch digital gauge cluster, a 17.7-inch infotainment screen, and a 12.3-inch screen for the front passenger.
The continuous plastic front frame surrounds the aesthetic curved screen band, coating an elaborate three-layer process. Along with integrated ambient lighting, the MBUX hyperscreen creates a floating appearance. The active OLED technology equipped within your MBUX hyperscreen radiates high-resolution pixels, color brilliance creating an emotionally appealing visual.
Learn More About the New MBUX Hyperscreen in Riverside
To stay up to date with information about the new MBUX Hyperscreen or the Mercedes-Benz EQS, stay in touch with our team here at Walter's Mercedes-Benz of Riverside.
If you have any questions or general dealership inquiries, please contact us, and we will be more than happy to help. Serving the areas near Corona, Moreno Valley, and San Bernardino, we look forward to hearing from you soon.