Mercedes-Benz Roadside Assistance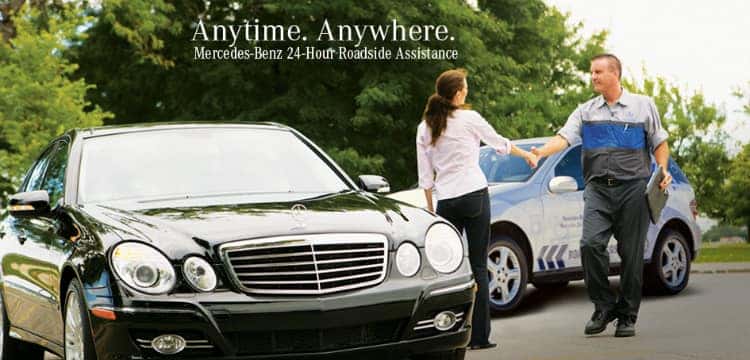 Owning or leasing a Mercedes-Benz is more than just about driving. It's an entire lifestyle experience. You can access features wherever you go thanks to the Mercedes me app, but did you know your roadside assistance is also just a few taps away? At Walter's Mercedes-Benz of Riverside serving orange County, we see how our shoppers are continually impressed by this brand's dedication, because when we say "anytime, anywhere," we mean it. A Mercedes-Benz technician near you is on call 24 hours a day, seven days a week.
Program Advantages
It's an unfortunate reality, but all drivers encounter a negative driving experience. Whether you're in need of a flat tire or get into an accident, we can help. Should you reach this point in your Mercedes-Benz model, simply dial 1-800-367-6372 or use thembrace® app if you're a subscriber, and an expert will be deployed to your location.
Effortless and Convenient
Some mechanical problems have quick fixes. If you have a flat tire, dead battery, or empty gas tank, get in touch with our roadside assistance professionals. They can bring you what you need and get you back on the road quickly!
Mercedes-Benz Roadside Assistance Towing
Bigger mechanical problems and collisions are incredibly stressful—especially if you encounter them when you're out on a drive and you're left stranded. However, added peace of mind is possible when you consider that our Roadside Assistance professionals can arrange to have your model towed at no charge to the nearest authorized Mercedes-Benz dealer for repairs. At every turn, your vehicle is in the hands of true experts.
Other Repairs
If a technician takes a look at your vehicle and determines that repairs are required beyond the normal free services, and the repair isn't covered by our brand warranty, we will assess the charges accordingly.
Trip Interruption
If the mechanical issues you run into have interrupted a trip, and your model is still under warranty, Trip Interruption is one more thing that sets this automaker apart from the rest. Document the costs of temporary accommodation, meals, and related expenses and Mercedes-Benz will reimburse you! Be sure your situation meets the following conditions:
The breakdown occurs more than 100 miles from your home.
The problem is covered by warranty and renders the vehicle inoperable or unsafe to drive.
Your vehicle remains overnight(s) at an authorized Mercedes-Benz dealership while repairs are performed.
A Mercedes-Benz dealer will reimburse you up to $300 per night* for documented lodging, food, and related travel expenses for a maximum of three consecutive nights from when your vehicle first encounters the mechanical issue.
If you have questions about the Mercedes-Benz Roadside Assistance program, contact Walter's Mercedes-Benz of Riverside serving Orange County today! Our service technicians are happy to help.
* All Trip Interruption claims and documentation must be presented to and approved by an authorized Mercedes-Benz dealership. Please see the service department at your local dealer for details.