Mercedes-Benz Sprinter Battery Service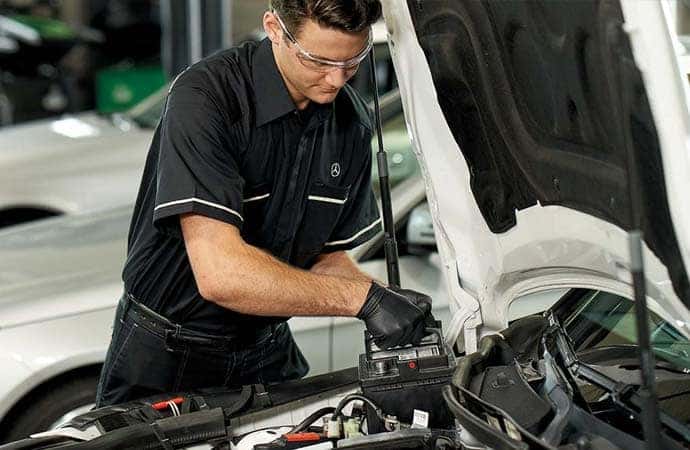 When was the last time your Sprinter van's battery was tested or replaced? Keeping up with routine battery service is essential to keeping your business running. Visit the Walter's Mercedes-Benz of Riverside Service Center today for all of your Sprinter service needs.
How Long Do Mercedes-Benz Sprinter Batteries Last?
Generally speaking, Mercedes-Benz Sprinter Van's batteries typically last anywhere from 3-5 years. The lifeline of your battery may also depend on driving habits, type of battery, weather conditions, corrosion, and much more.
The different ways you can extend the battery life in your luxury van include:
Keeping your Sprinter Van indoors
Tightening the battery — yes, vibrations can cause the battery to loosen
Periodically testing your battery
Cleaning of corrosion
Routine maintenance battery check-ups
Do I Need A New Battery For My Mercedes-Benz Sprinter Van?
The battery in your van will not give a warning sign. In some of the worst cases, they will fail without even a single notice. Do not panic, we are here to help. Some of the warning signs you may want to look for in a declining battery include:
Dim Headlights
Delayed Engine Crank
Low Battery Fluid Level
Excessive Corrosion
Period of Time Since Last Battery Change/Inspection
We know you are not an expert in battery inspections. But our team here at Walter's Mercedes-Benz of Riverside Service Center has a team full of experienced technicians that are certified and trained. Utilize our services and we will be sure to handle your luxury van with care.
Schedule a Service Appointment in Riverside
We want to make sure your business is not affected because of a dead battery. Whether you need an inspection, test, or replacement battery, schedule an appointment with our Mercedes-Benz service center as soon as possible.
Also, we encourage you to take advantage of our Mercedes-Benz Sprinter Van specials to save on your next visit. While it is a benefit to you, it is a thank you from us for choosing to trust in our services.
For any questions or general information about our Mercedes-Benz Sprinter Van services, please contact us, and we will be more than happy to assist you!