Mercedes-Benz Cabin Air Filter Replacement in Riverside
Does your Mercedes-Benz cabin air filter need to be replaced? If so, visit our Mercedes-Benz service center in Riverside for a Mercedes-Benz cabin air filter replacement. Our team will properly examine your vehicle and help you select the correct cabin air filter for your luxury ride!
When Should You Replace Your Cabin Air Filter?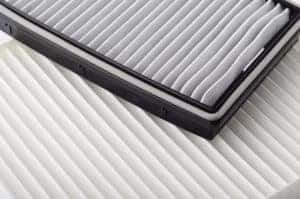 Regularly replacing your cabin air filter may not seem like such a big deal but your cabin air filter actually plays an important role in preventing harmful pollutants like dust, smog, and pollen from entering your Mercedes-Benz vehicle's cabin. By catching unwanted debris, you can improve the air quality in your car and make your time behind the wheel more pleasant, particularly if you have allergies or other respiratory problems.
Wondering when to replace your Mercedes-Benz cabin air filter? Some experts recommend replacing your cabin air filter every 30,000 miles but this can depend heavily on where and how often you drive. The team at Walter's Mercedes-Benz of Riverside encourages drivers to consult their owner's manual for their vehicle's specific maintenance schedule, but be on the lookout for reduced airflow through your climate control system and persistent bad odors–these are typically signs that you need a new cabin air filter.
Don't hesitate to contact our Riverside Mercedes-Benz dealer today if you have any questions or concerns about your Mercedes-Benz cabin air filter. Our staff of professionally trained Mercedes-Benz technicians would be more than happy to replace your cabin air filter and regularly offer Mercedes-Benz service coupons so you can easily receive the maintenance and services your luxury vehicle deserves.
Satisfied Mercedes-Benz Service Customers:
"I always appreciate the service at Walters, the team is very knowledgeable and friendly, I have a had a few different service consultants and never a bad experience. Thank You" – sharonjmeyer (DealerRater)
Directions: