Mercedes-Benz Sprinter Van Service Intervals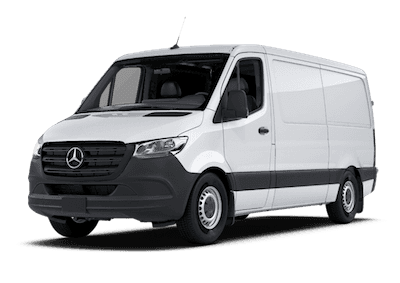 | | |
| --- | --- |
| Synthetic motor oil replacement | Every 20,000 miles or 1 year for diesels / Every 15,000 miles or 1 year for gasoline engines |
| Cabin dust/combination filter replacement | Every 40,000 miles |
| Brake fluid exchange | Every 2 years |
| Wiper blades set | Every 10,000 miles |
| Spark plugs replacement | Every 30,000 miles or 3 years (gas engines only) |
| Engine air filter replacement | Every 60,000 miles or 3 years for diesels / Every 45,000 miles or 3 years for gas engines |
| Transmission oil & filter replacement | At 40,000 miles and then every 60,000 miles or 3 years for diesels/ At 30,000 gas engines |
| Fuel filter replacement (diesel models) | Every 20,000 miles or 1 year (diesel engines only) |
When you've got a company to keep moving, the last thing you want to worry about is stopping for service. If you're hoping to keep your business running smoothly, however, then you'll need to stay up to date with routine maintenance and services. Luckily this is made easy with help from our Riverside Mercedes-Benz Sprinter service center!
When Should I Service My Mercedes-Benz Sprinter Van?
The Mercedes-Benz Sprinter Van is designed to keep daily costs down and your productivity up, ultimately helping to boost your whole Riverside company. Behind the wheel of this efficient van, drivers will enjoy Best-in-Class service intervals of up to 20,000 miles for diesel engines, and up to 15,000 miles for gas models. In addition to fewer service visits, Walter's Mercedes-Benz of Riverside also offers VanCARE Express Service to ensure you get back on the road fast! Be sure to examine the chart above to determine the optimal time to service your Mercedes-Benz Sprinter Van. Also, check for current service specials.
Schedule Service for Your Mercedes-Benz Sprinter Van In Riverside
We have your back at Walter's Mercedes-Benz of Riverside. Reach out to our team of qualified technicians today to schedule a service appointment for your Mercedes-Benz Sprinter Van.