New 2019 Mercedes-Benz E-Class for Sale in Riverside, CA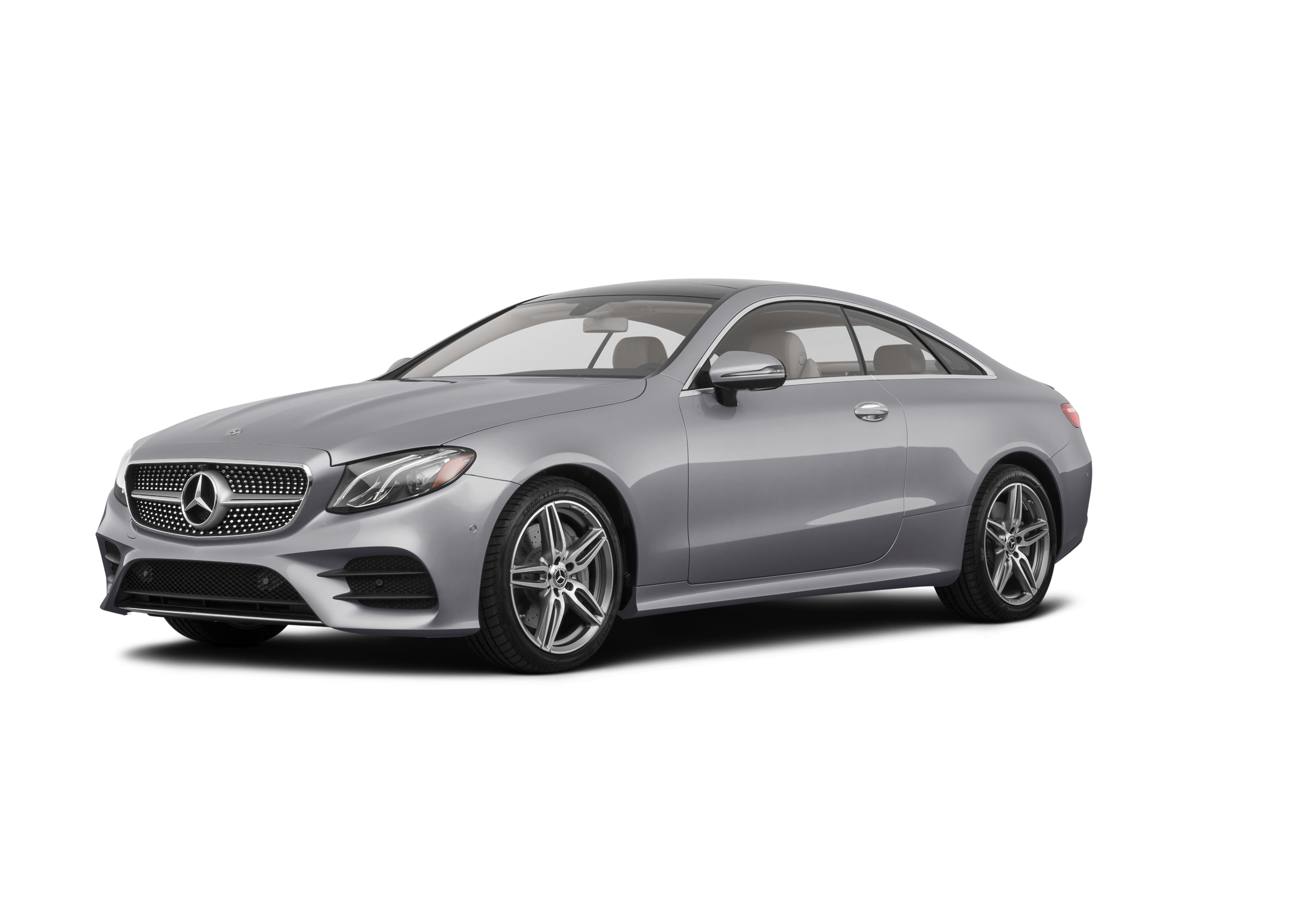 2019 Mercedes-Benz E-Class Performace & Overview
Numerous driver assists monitor your surroundings and either issue warnings or take action to prevent accidents. When it detects signs of drowsiness, ATTENTION ASSIST® can wake you with audio-visual alerts. Adaptive braking technology can improve responsiveness if you lift your foot off the accelerator pedal quickly by adding the correct amount of stopping pressure. To prevent your sedan from being blown off the freeway by strong gusts, Crosswind Assist strategically brakes wheels on one side. The optional Active Distance Assist DISTRONIC® puts a safe distance between you and the car ahead, automatically decreasing or increasing your speed to adjust to changing traffic flow. Available Active Blind Spot Assist warns of intrusions into your blind zone. If you try to change lanes, it brakes selected wheels to steady you where you are to prevent a side collision. You can also get help pulling into a spot with available Active Parking Assist, which takes care of steering, braking, and shifting.
Do your high aspirations deserve to be met? Then test drive the 2019 Mercedes-Benz E-Class at Walter's Mercedes-Benz of Riverside, CA.
If you're looking to this vehicle as transportation for your loved ones, you'll be reassured by all the built-in or available protective systems. They begin with Active Brake Assist, which depends on radar-based technology to determine if a collision is likely with something or someone in front of you. When you respond by braking, this feature can adjust braking effort to prevent an accident. It can also engage braking if you do nothing.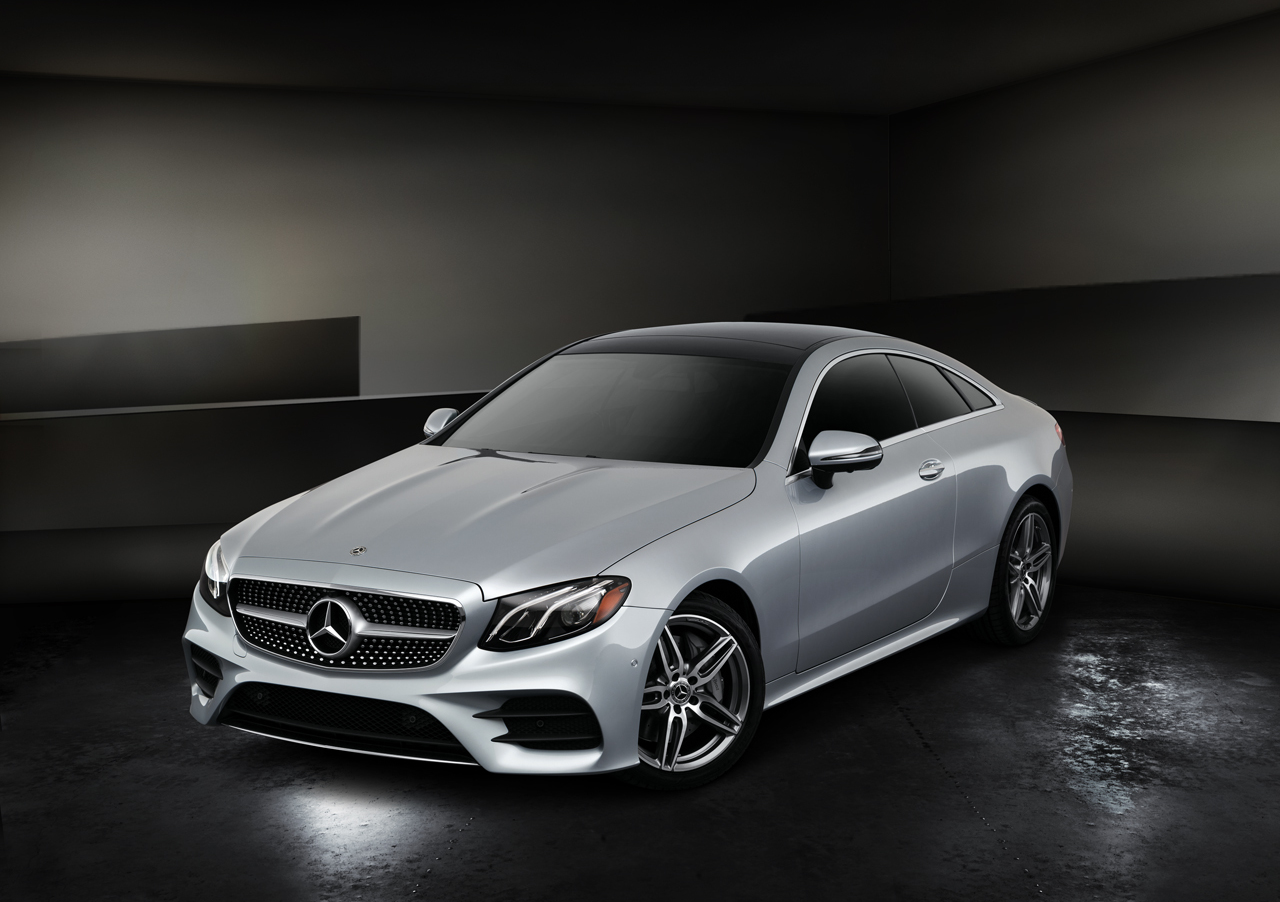 Model Summary
2019 Mercedes-Benz E 300 Sedan: The 2.0-liter inline-4 turbo generates 241 horsepower and 273 lb.-ft. of torque, giving a rush from 0 to 60 MPH in 6.2 seconds. Lease special or finance offer, the car comes with the 9G-TRONIC 9-speed transmission, the EPA-estimated fuel efficiency achieves 30 MPG on the highway and 21 MPG in the city. You can program your sedan to turn on its exterior lights at night when you unlock it, so you get an illuminated path to the door. Relax after a hard-day with eight available massage programs on the front seats that include two "hot stone" options that duplicate a spa experience and a "workout" that strengthens the muscles in your back and legs. For year-round comfort, add heating and ventilation to the front seats and opt for Three-Zone Automatic Climate Control to give passengers in the rear their air-conditioning switches.
2019 Mercedes-Benz E 300 4MATIC® Sedan: Feel more confident even on rain-drenched freeways through the additional road grip of 4MATIC® all-wheel drive. With an assist from the Electronic Stability Program (ESP®) and the Electronic Traction System, it prevents slipping wheels by sending torque to the wheels with the best hold on the road, even if it's only one wheel. Accelerate from sitting still to 60 MPH in only 6.3 seconds, thanks to the 241-hp 2.0-liter inline-4 turbo and the 9G-TRONIC 9-speed automatic transmission. ESP® Dynamic Cornering Assist lets you take turns more precisely. It engages braking on the inside rear wheel, so torque temporarily shifts to the outside wheels. In response, your vehicle gently turns, following a line that's more suited to the curve.
2019 Mercedes-Benz E 450 4MATIC® Sedan: Boosting 0-to-60 launches in just 5.0 seconds is the 362-hp 3.0-liter V6 Biturbo that generates 369 lb.-ft. of torque with the paired automatic 9G-TRONIC 9-speed transmission. The 4MATIC® all-wheel drive maximizes your grip on every road surface. Fuel economy achieves an EPA-estimated 28 MPG on the highway and 20 MPG in the city. The 4MATIC® all-wheel drive works with the Electronic Stability Program and the 4-wheel Electronic Traction System to maximize road grip and prevent wheel slip. Rely on the Sport Brake system to stop you in less time with its perforated brake disks in front. The Direct-steer feature of electromechanical power steering automatically adjusts steering effort based on how far the steering wheel turns.
2019 Mercedes-Benz AMG® E 53 Sedan: AMG® body styling sculpts the side sills and pronounced rear valance while accenting the front air dam and air-intake fins with brilliant chrome. These athletic and aerodynamic enhancements are backed by the 3.0-liter inline-6 turbo plus EQ Boost and an electric auxiliary compressor. This combination delivers a 4.4-second rush from 0 to 60 MPH while producing 429 horsepower and 384 lb.-ft. of torque. The AMG® Performance 4MATIC®+ all-wheel drive allows for instant torque distribution from front-to-rear to handle varying driving conditions. The rear wheel can even get 100 percent. Generating the characteristic AMG® sound signature are the four polished-chrome tailpipes of the AMG® Sport Exhaust System.
2019 Mercedes-Benz AMG® E 63 S Sedan: The fastest of the class jets from 0 to 60 MPH in only 3.3 seconds, thanks to a handcrafted AMG® 4.0-liter Biturbo that impresses with 603 horsepower and 627 lb.-ft. of torque. When load conditions are low, such as during cruising, AMG® Cylinder Management deactivates half of the cylinders to increase fuel efficiency. With the AMG® SPEEDSHIFT® MCT 9-speed transmission, fuel economy reaches 603 horsepower and 627 lb.-ft. of torque. Dynamic engine mounts rely on computer control to optimize handling for extreme conditions or refine smoothness for normal situations. The AMG® Performance 4MATIC® all-wheel drive can improve road grip by precisely adjusting torque from 100 percent to the rear wheels to varying degrees of all-wheel distribution. You'll get higher cornering speed and greater control when the AMG® Electronic Limited-Slip Differential locks the rotation of the axles based on driving conditions.
2019 Mercedes-Benz E 450 4MATIC® Wagon: With 362 horsepower and 369 lb.-ft. of torque, the 3.0-liter V6 Biturbo goes from 0 to 60 MPH in 5.1 seconds. Using the 4MATIC® All-Wheel Drive maximizes torque to every wheel, so you retain a firm grip on any road. The spacious interior easily accommodates seven passengers. Or you can drop down the EASY-FOLD 40/20/40-split second row and rear-facing third row to increase cargo room from 35 to 64 cubic feet. ATTENTION ASSIST® constantly monitors up to 70 driving factors and alerts you to signs of drowsiness. To prevent potential collisions, Active Brake Assist can automatically stop the wagon. For your convenience, a household-type 115-volt power outlet sits in the center console, ready to power up your devices or gaming system.
2019 Mercedes-Benz E 63 S Wagon: Launches from 0 to 60 MPH in only 3.4 seconds are only possible with the 603 horsepower and 627 lb.-ft. of torque roaring from the hand-crafted AMG® 4.0- liter V8 Biturbo. Through AMG® DYNAMIC SELECT, you can transform the way the wagon behaves with preset modes like RACE, Sport, Sport+, and Comfort. HANDS-FREE ACCESS lets you open or closes the liftgate by kicking a foot under the rear bumper. When you have the SmartKey with you, KEYLESS GO® lets you lock and unlock doors by touching the handles. To open press a button on the SmartKey remote on the interior panel of the driver's door. To close it, press a button under the bumper. Obstructions automatically stop the movement until they are removed. Plus you can program the height of the liftgate to compensate for low ceilings.
2019 Mercedes-Benz E 450 Coupe: The five-second launch from 0 to 60 MPH stems from the 362 horsepower and 369 lb.-ft. of torque in the 3.0-liter V6 Biturbo. Fuel efficiency is at the EPA-estimated 28 MPG on the highway and 20 MPG in the city using the 9G-TRONIC 9-speed automatic transmission. The pillarless hardtop design eliminates any framework from the four power side windows, allowing for both sportiness and elegance. Up front, the chrome diamond-block grille features hexagonal pins that increase both airflow and aesthetics. Feel the luxury of the hand-stitched Nappa leather with perforated side grips that wraps around the steering wheel. You can customize vehicle setting, enter navigation destinations, or display entertainment on the high-resolution 12.3- inch display. The COMAND® navigation system comes with three years of Live Traffic.
2019 Mercedes-Benz AMG® E 53 Coupe: Backed by 429 horsepower and 384 lb.-ft. of torque, the AMG®-enhanced 3.0-liter V6 Biturbo goes from 0 to 60 MPG in 4.3 seconds. Fuel economy in the city reaches EPA-estimated 21 MPG, and in the country, it gets 21 MPG with the AMG® SPEEDSHIFT® TCT 9G. Pushing this performance is the EQ Boost Integrated Starter-Generator and its 48-volt lithium-ion battery. Selective damping for this four-seater manages individual shock absorbers based on driving style and road condition to balance both control and comfort. Cornering is more responsive, and low-speed maneuvering gets easier with the electro-mechanical power steering. It features Direct-steer, which automatically modifies steering ratio based on how far you turn the steering wheel. Dominating the front is the chrome-finished AMG® Twin-Blade grille.
2019 Mercedes-Benz E 450 Cabriolet: Experience the classic California drive by dropping the three- layer soft top in under 20 seconds. The sporty profile accelerates from 0 to 60 MPH in 5.1 seconds, boosted by the 3.0-liter V6 that produces a powerful 362 horsepower and 369 lb.-ft. of torque. Gas mileage reaches the EPA-estimated 27 MPG on the highway and 20 MPG in the city. Ultra-high- strength steel and aluminum imbue the body with rigidity and lighter weight for exceptional performance. Ensuring more enjoyment of top-down night drives even at freeway speeds with the AIRSCARF® neck-level heating system sends warm air to your head, neck, and shoulders so you can stay warm during cold days. You can also deploy AIRCAP®, a virtual wind blocker that still allows the rear seats to be occupied.
2019 Mercedes-Benz E 450 4MATIC® Cabriolet: Enjoy the purity of open-air motoring when you lower the acoustic all-season soft top into its compartment in just 20 seconds even when you're rushing at 31 MPH. The 3.0-liter V6 Biturbo pushes you from 0 to 60 in 5.1 seconds by generating 362 horsepower and 369 lb.-ft. of torque. Fuel efficiency per the EPA-estimated at 26 MPG on the highway and 19 MPG in the city. Improving performance on uncertain surfaces and prevent slipping wheels, the 4MATIC® permanent all-wheel drive integrates Electronic Stability Control and 4-wheel Electronic Traction System. Pop-up roll bars behind each rear seat deploys in a third of a second when it detects a potential rollover. They work with the aluminum and high-strength steel body to protect you from accidents.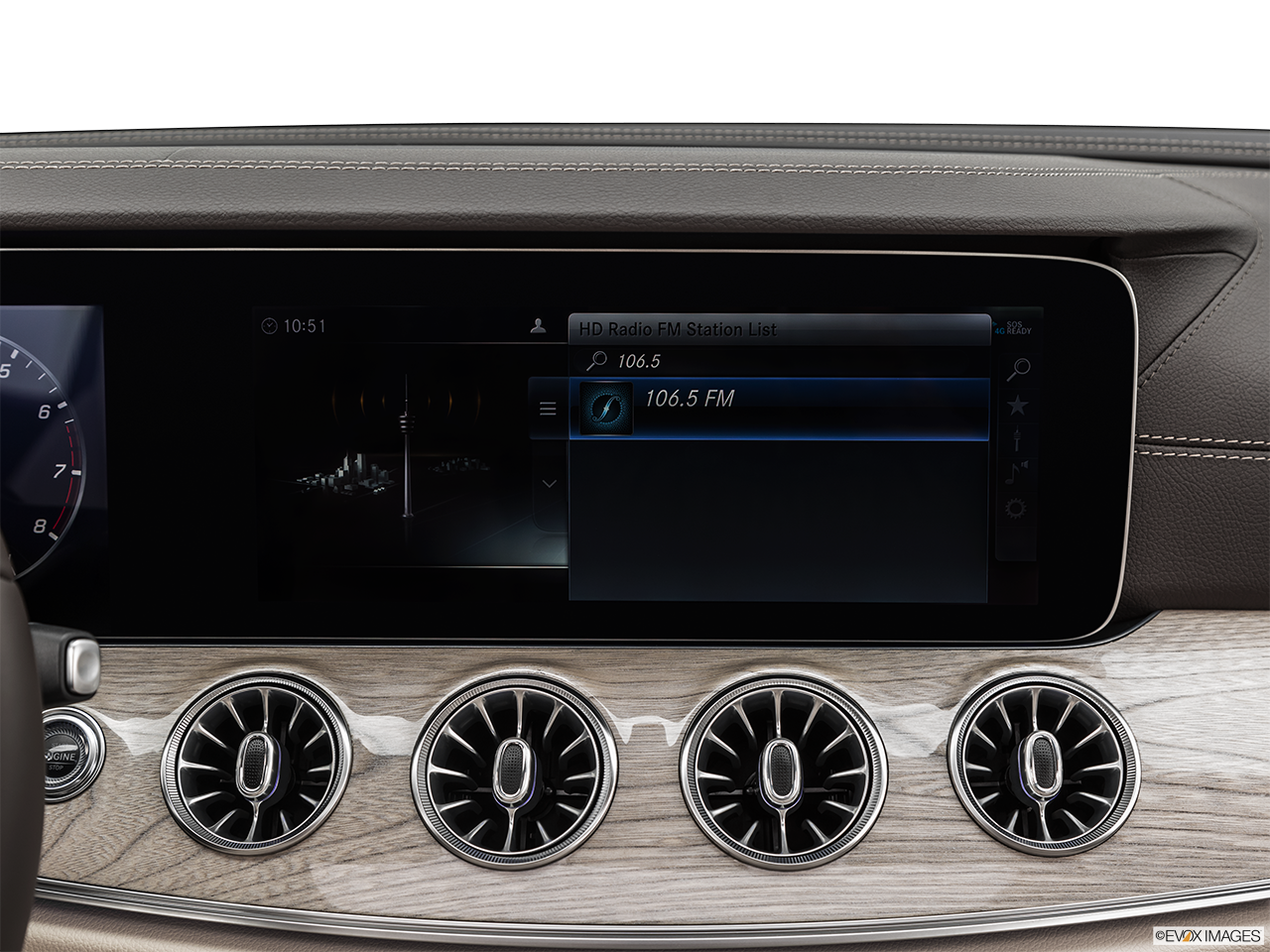 Are you ready to enjoy the interior with all the delightful amenities?
The 2019 Mercedes-Benz E-Class enhances your immediate environment with 64 colors of ambient lighting, well-honed seats that mold to your form. Decorating the dash and doors are such exotic woods as Burl Walnut, Natural-Grain Black Ash, and Brown Ash. Use the intuitive controls on the doors that are shaped like a seat to customize the front seats. You can store up to three settings per seat plus the positions of the side mirrors and the four-way power steering column for the driver. Dual-Zone Automatic Climate Control encourages separate temperature definitions for you and your front passengers. The rear seatbacks drop down in a 40/20/40 split to accommodate different configurations of passengers and cargo.
You'll reach your destinations more efficiently when the COMAND® navigation system offers directions through 3D maps and lane advice before the turns. When you're ready to rev up the motor, keep the key fob in your pocket or purse. Press down on the brake pedal and the engine button on the dashboard.
We appreciate your interest in our inventory, and apologize we do not have model details displaying on the website at this time. Please fill the form out below and our team will quickly respond, or, please call us at 951-441-6188 for more information.

The exterior is iconic as well as exciting.
The 2019 Mercedes-Benz E-Class proclaims its advances with the classic logo dominating a choice of elegant grille designs. However, the Three-Pointed Star is also available as a shining sculpture that tops the muscular and aerodynamic hood. A lengthier wheelbase than the prior model along with a finely honed body emphasizes the athletic stance. LEDs lend their quick-acting and long-lasting advantages to the expressive headlamps and eye-catching tail lights, which use "Stardust" reflector technology for a more exciting effect. The quickness of LED responses can give other drivers more time to react to your maneuvers.
Up top, the tilting-and-sliding tinted glass sunroof can slide open or tilt up to give you closer access to the wind and the sun with the push of a button. You can block out unwanted glare with a manual sliding sunshade. Down below, you can choose from available wheels ranging from 17 to 19 inches with 5- spoke, twin 5-spoke, or 10-spoke designs. Although exterior colors vary by trim, you can select from one among multiple shades like design® Cardinal Red, and Obsidian Black.
Are you fired up about a new Mercedes-Benz? See us at Walter's Mercedes-Benz of Riverside today. Leave no finance option undiscovered, and reveal all the lease specials.