A Different Drive
There's no drop-off in performance behind the wheel of the 2016 B-Class, because it's a Mercedes-Benz, first and foremost. You will go from zero to sixty in under 8 seconds with 251 lb-ft of torque and zero emissions. The B-Class has been engineered from the inside out to increase handling and cornering for a drive that's firm and fun. The cabin is slightly raised and the high-capacity battery is spread out along the bottom for a more spacious and safe ride. You'll find a driving range of 87 miles per charge to be plenty for a daily commute, and it can be recharged at any common charging station in about two hours.
A Perfect Fit
It may have the nimble handling of a compact sedan, but the cabin of the new Mercedes-Benz B-Class feels more like a small SUV when you get in it at our Orange County area Mercedes-Benz dealer. 60/40 split fold seats offer up plenty of space for five people, or for irregular shaped items. Since this isn't your average electric vehicle, there are plenty of rich appointments and resplendent luxury for an elevated driving experience. Hand-finished wood and leather surround you with a sleek multifunction steering wheel and driver-centric center console that really leads the way.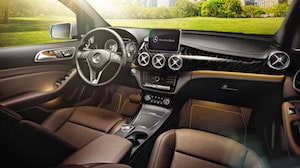 Center of Attention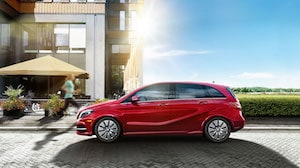 The new Mercedes-Benz B-Class Electric Drive takes a refined approach to exterior design. It doesn't offer the peculiar shapes you may expect from other electric vehicles. Instead, it features the sleek, subtle style that has made the German automaker an icon across the globe with a dynamic front end that utilizes sharp headlights and a powerfully shaped hood. The eye-catching exterior not only provides maximum cabin space for you and your friends, but it also helps you aerodynamically drive down the road with features that minimize wind resistance.
Technology
It's hard to revolutionize the electric vehicle class without introducing some groundbreaking technology, and that's exactly what the B-Class did. It is the first EV to offer a radar-based regenerative braking system, which employs radar sensors to detect upcoming traffic when coasting or braking in order to recapture the maximum amount of energy. That translates to more miles per charge for you. You only need a standard 120-volt outlet in order to charge at home, which means charging overnight is a breeze. The My Mercedes Electric vehicle homepage helps you stay connected to your vehicle via your smartphone.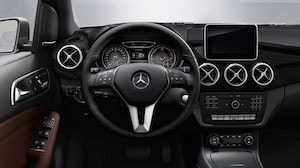 Safety
Being a Mercedes-Benz gives the B-Class an advantage over all the other electric vehicles in its class in terms of safety. It boasts standard safety systems like ATTENTION ASSIST®, which helps alert drowsy drivers. The new COLLISION PREVENTION ASSIST PLUS® uses radar to help prevent rear-end collisions by initiating braking before something bad happens. Even your windshield wipers are smart enough to know when it's time to go to work without you lifting a finger.
Contact us today to learn more about the 2016 Mercedes-Benz B-Class Electric Drive. You can call our dealership at (888) 294-6772 to get started.
We appreciate your interest in our inventory, and apologize we do not have model details displaying on the website at this time. Please fill the form out below and our team will quickly respond, or, please call us at 951-441-6188 for more information.