Elizabeth Flores
Walter's Mercedes-Benz of Riverside
Sales
Sales Consultant
Phone: 951-441-6188951-441-6188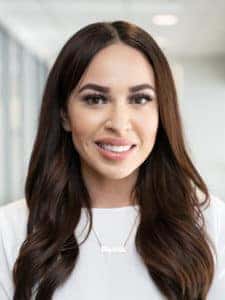 If you are looking for a no-pressure kind of person to help you find your next Mercedes-Benz, then look no further than Elizabeth Flores. She has nearly 10 years of experience in sales and enjoys helping customers find their perfect Mercedes-Benz. She completed her program and received her degree in Medical Ultrasound. Although the medical field was very rewarding, sales has always been her passion.
When Elizabeth isn't at the dealership she enjoys spending time with family and staying active. She enjoys cycling, weight lifting & hiking with a nice view. Growing up alongside four brothers, she learned boxing at a young age, and is something she also enjoys doing on her time off.
Prior to joining the team here at Walter's Mercedes-Benz of Riverside, Elizabeth purchased her Mercedes-Benz CLA and is in love with her car, however, her goal is to own day own a G-Class. Elizabeth is a motivated individual motivated by success and give her best at everything and hope to soon be a homeowner.
Next time you're at Walter's Mercedes-Benz of Riverside, don't forget to say hello to Elizabeth.
Walter's Mercedes-Benz of Riverside 33.924772, -117.4162462.