Service Specials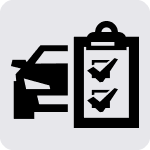 "A" Service Special (2009 – Newer Mercedes-Benz)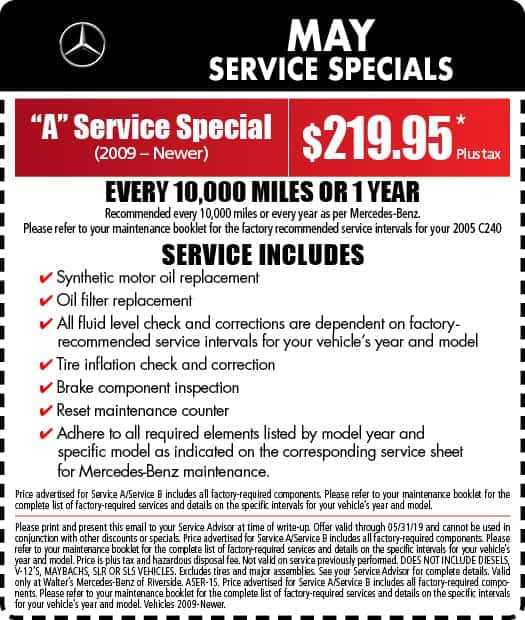 Walter's Mercedes-Benz of Riverside
3213 Adams St., Riverside, CA
Service: 951-441-6189
"A" Service Special (2009 – Newer Mercedes-Benz)
Expires: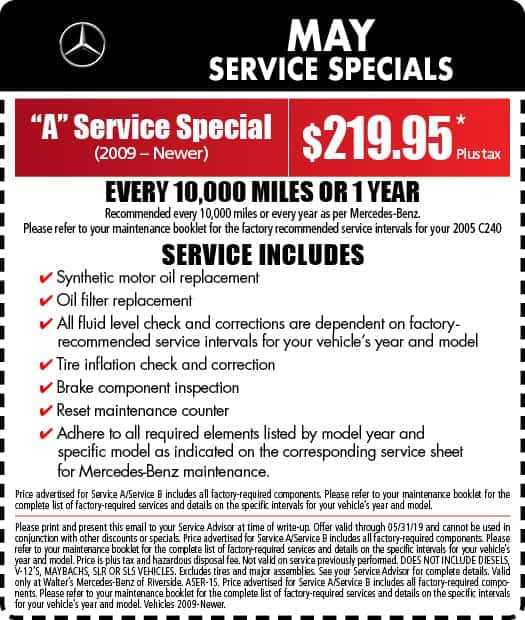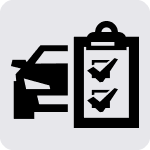 "B" Service Special (1998 – 2008 Mercedes-Benz)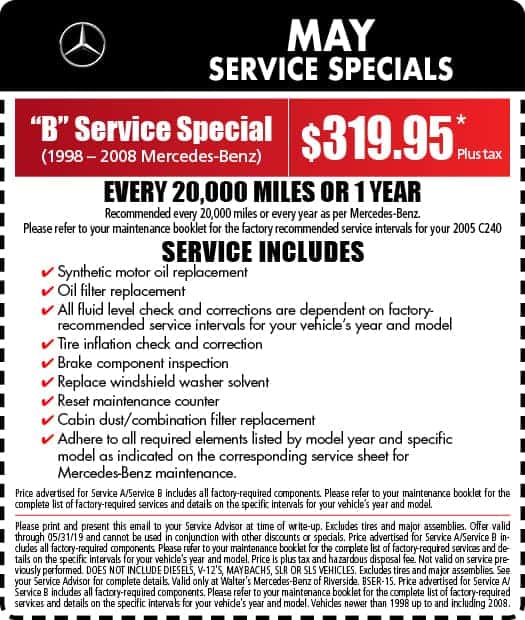 Walter's Mercedes-Benz of Riverside
3213 Adams St., Riverside, CA
Service: 951-441-6189
"B" Service Special (1998 – 2008 Mercedes-Benz)
Expires: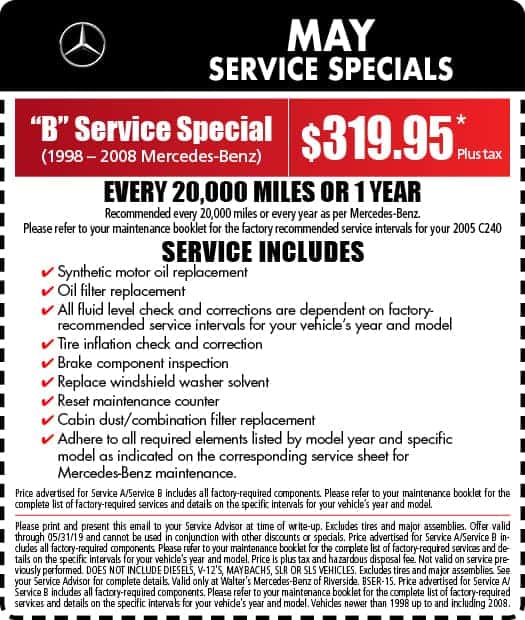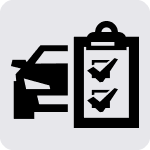 "B" Service Special (2009 – Newer Mercedes-Benz)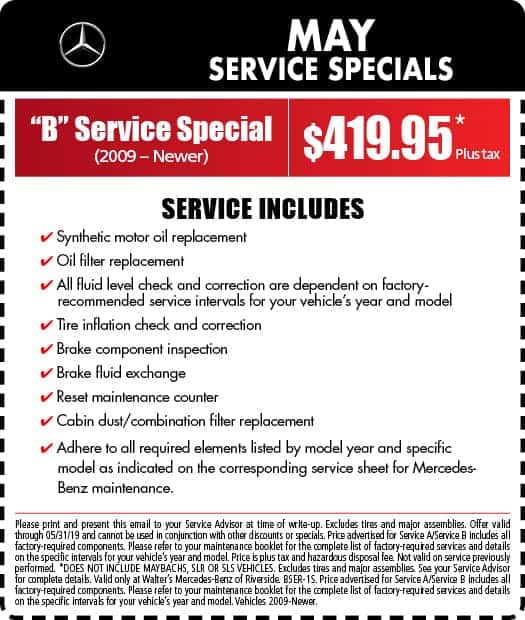 Walter's Mercedes-Benz of Riverside
3213 Adams St., Riverside, CA
Service: 951-441-6189
"B" Service Special (2009 – Newer Mercedes-Benz)
Expires: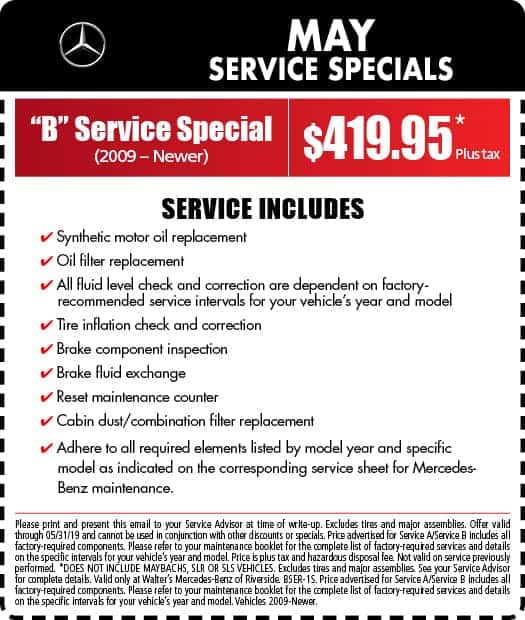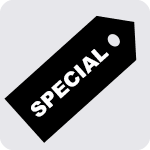 Tire Special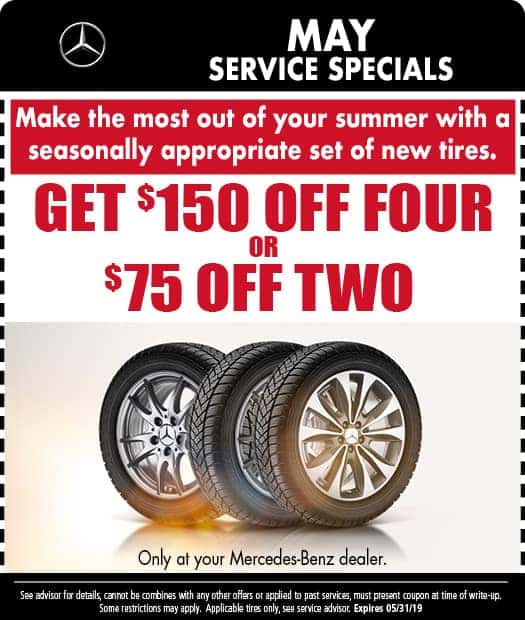 Walter's Mercedes-Benz of Riverside
3213 Adams St., Riverside, CA
Service: 951-441-6189
Tire Special
Expires: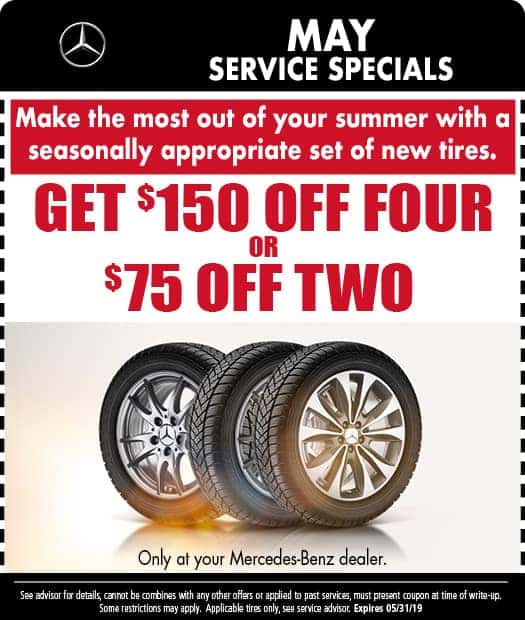 Keeping up with routine maintenance on your vehicle is important if you want to continue enjoying the luxury and exhilarating performance of your Mercedes-Benz for many years. That's why our
Riverside Mercedes-Benz service center
offers great specials that help you save money while taking care of integral maintenance. It can be hard to make time for these important services, but our convenient hours make it easy to come in when it fits into your busy schedule.
Take Advantage of Mercedes-Benz Service Coupons in Riverside
Mercedes-Benz makes it simple to stay up to date on your regular routine maintenance by breaking them into service routines that give you everything you need in one package. This way you get it all at a reasonable price. That's what makes the Mercedes-Benz service specials at our Riverside dealer so simple. It takes the guesswork out of it for you.
Our team of certified technicians is always ready to take care of your vehicle. They have the training and tools to take care of all of your routine maintenance in a timely manner. The service coupons on this page just help you save money when you do make an appointment. You should check back frequently because the special discounts do change from time to time.
Service Specials Keep Your Mercedes-Benz in Top Condition
There is nothing like putting down the pedal and feeling your Mercedes-Benz rev up and take off down the road. However, only by keeping up with routine maintenance will it continue to deliver that seamless performance you have come to love. At Walter's Mercedes-Benz of Riverside, our service center and our certified technicians are here to help you keep your ride in top shape while saving you a few dollars with our service specials, coupons, and maintenance bundles. We are open six days a week and offer early hours for easy drop-off or Express Service for many standard services included with our Service Specials.
Maintain Peak Performance
While it may seem like the service reminders that appear on your dash are simply a way to get you into the shop, they help you to keep your sedan, SUV, or coupe running at its best. The most common service we provide is the standard oil and oil filter change. Over time the filter can clog or tear, allowing more particles to enter the engine. Meanwhile, the oil breaks down over time leaving your engine to run hotter and harder which can lower horsepower and reduce its life span.
Use our convenient online scheduling form to get your Mercedes-Benz into our service center for an Express Service that fits into your day.
New Filters Breath Fresh Air into Your Cabin and Engine
Did you know that you have more than one air filter in your vehicle? The engine air filter ensures that dust and debris do not enter the combustion chamber, maximizing the performance of your ride and extending its life. Your cabin filter eliminates dust, pollen, and smells from the cockpit and ensures that your heat and air conditioning ducts and fans are not damaged by airborne debris.
Look for one of our coupons and save on your next regular maintenance that includes a quick filter change so you and your vehicle can breathe deeply for the next 30k to 50k miles.
Rotate and Inspect Your Tires for Longer Life and Better Fuel Economy
No road is truly flat and free of holes, cracks, and gravel. Your tires will not wear evenly if left on the same corner for their entire life as the shape of the road and your driving habits place added stress on a specific wheel. Tire rotation helps the entire set of tires last for their intended life span while good traction helps you to maintain your fuel mileage.
For more information about all our Service Specials and maintenance and repairs offered in our Service Center, give us a click using our easy contact form or call at (888) 656-5003. We look forward to keeping your baby looking and running its best for many more years in the future.
Schedule a service appointment today to take advantage of these great deals and get your vehicle in great shape. Call (888) 347-1436 to learn more.